Amanita, Toad Stool, Bug Agaric, Agaric, Amanita Muscaria, Agar.
HPUS
indication of Agaricus Muscarius:
Numbness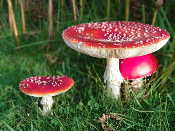 Below are the main rubriks (i.e strongest indications or symptoms) of Agaricus Muscarius in traditional homeopathic usage, not approved by the FDA.


Have you ever used Agaricus Muscarius? Yes No


< < Agaricus Muscarius- main page
GENITALS ETC
Urine
Urine profuse, colorless; clear, lemon-colored.
Viscid, glutinous mucus from the urethra.
Weakness of sphincter vesicae, with dribbling.
Male
Great desire for an embrace, the penis being relaxed.
Genitals
Voluptuous itching of the genitals.
After coitus great debility; profuse night-sweats; burning, itching of the skin; tension and pressure under ribs.
Spermatorrhoea, with pains and weakness in the thighs.
Complaints after sexual debauches.
Bearing down pain almost intolerable.
Itching and irritation of the parts, with strong desire for an embrace.
Menses
Prolapsus uteri after cessation of menses.
Menses too profuse, with tearing, pressive pains in back and abdomen.
Pregnancy
Nipples itch, burn, look red.
≡ more ...