Amanita, Toad Stool, Bug Agaric, Agaric, Amanita Muscaria



Available
in 2C-30C, 200C, 2X-30X, 200X, 1M-50M, CM from $6.50
Purchase options
HPUS indication of Agaricus Muscarius: Numbness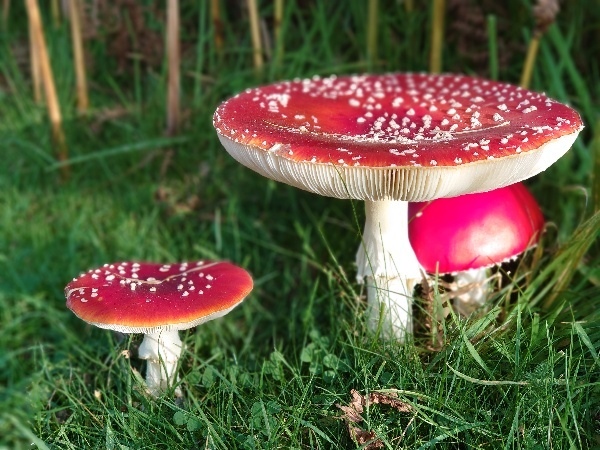 Homeopathic remedies are prescribed on the basis that in a tiny dilution like cures like, so while very dilute Agaricus Muscarius may help, unprocessed Agaricus Muscarius may be best avoided.
Below are the main rubriks (i.e strongest indications or symptoms) of Agaricus Muscarius in traditional homeopathic usage, not reviewed by the FDA.
< < Agaricus Muscarius - main page
HEAD
Head
Head in constant motion
Falling backward, as if a weight in occiput
Icy coldness, Like icy needles, or splinters
Neuralgia with icy cold head
Coldness
Coldness; icy
after scratching
forehead
with external heat
as from ice
back of head (occiput)
top of head (vertex)
icy coldness
Congestion (see pulsation)
fullness
pressure of hat
on waking
forehead
back of head (occiput)
from mental exertion
Constriction, tension (see also pulling, pressing)
morning
back of head (occiput)
late morning
Pulled; sideways; upon shoulders
Empty, hollow sensation; hangover
Expanded sensation (see swollen); enlarged sensation
Hot
morning; on rising
with coldness of body
transient
Movements in head; swimming, as from alcohol (see confusion of mind)
sensation as if something were alive in head; as if brain were an ant-hill
Movements of head; backward and forward
convulsive
falling (see heaviness); backward
jerking of the head
involuntary
rolling head
Sensation of numbness; back of head (occiput)
Prickling; like needles
Pulsating
from mental exertion
back of head (occiput)
side
right
temples
top of head (vertex)
Swollen, and feeling swollen
forehead
Twitching of muscles
forehead
sides
right
temples
Uncovering head
Headache
Lateral headache, as if from a nail ( Coffea Cruda Coff.; Ignatia Ign.) Dull headache from prolonged desk-work
Desire to cover head warmly ( Silicea Silica) Headache with Nose-bleed or thick mucous discharge.
Heaviness (see pain; pressing)
pressing); morning
pressing); as if had been drinking
pressing); forehead
pressing); back of head (occiput)
pressing); temples
as if a weight hung at both sides
Pain, headache
daytime
morning
in bed
on rising
on waking
noon
afternoon
evening
night; sleep
night; on waking
night; about midnight
night; after midnight
night; 3 a.m.
affected by certain foods and drinks (improved, brought on or aggravated); after breakfast
affected by certain foods and drinks (improved, brought on or aggravated); after eating
affected by certain foods and drinks (improved, brought on or aggravated); from spirits
when holding the breath
with chorea (twitching convulsions)
eyes and vision (affecting or affected by); closing eyes
eyes and vision (affecting or affected by); forced to close eyes
eyes and vision (affecting or affected by); from straining eyes
eyes and vision (affecting or affected by); from light in general
from cold (including cold parts); becoming cold
with running or blocked nose
from emotions; nervous
physical exertion
from exertion; mental exertion
with stomach complaints; with diarrhoea
with stomach complaints; diarrhoea
with high or low temperature; headache during the heat
with high or low temperature; headache during the chill
intermittent
while lying down
before going to sleep
maddening; as if would go mad or lose senses
in women; during period
in women; after period
certain movements; movement in general
certain movements; on moving head
certain movements; rolling head from side to side
from noises
pressure; external pressure
pressure; from pressure of hat
pressure
from sex; after sexual excesses
from sex; during sexual intercourse
sitting
after sleep
while standing
after stool
sudden pain or sudden increase of pain
pain comes on suddenly
while talking
thinking of pain
from touch
with fading consciousness
walking; in open air
walking; while walking slowly
from warmth; from exposure to sun
cold weather
wrapping up head
when yawning
extending to other parts; ears
extending to other parts; nose
extending to other parts; root of nose
in forehead
right side
right side; afternoon
left side
left side; extending to right side
morning
morning; on waking
evening
open air
closing eyes
movement
must move the head to and fro
noise
while sitting
while standing
extending to other parts; backward
extending to other parts; eyes
extending to other parts; nose
above eyebrows
above eyebrows; left
above eyebrows; morning
above eyebrows; morning; on waking
above eyes
above eyes; above right
above eyes; morning
above eyes; while walking
middle
above root of nose
back of head (occiput)
morning
morning; in bed
late morning
afternoon
after sexual intercourse
after eating
while lying down
while lying down; lying on back of head (occiput)
certain movements
while sitting
after sleep
sides; left
sides; left; while sitting
sides; one side
alternating from one to the other
sides; on movement
sides; on pressure
sides; touch
temples
left
nd forehead
top of head (vertex)
morning
night
pulsating
extending to other parts; to ear
boring, digging, screwing
while sitting
forehead
forehead; over eyes
back of head (occiput)
side of head
temples
top of head (vertex)
burning
while lying on back
forehead; over eyes
back of head (occiput)
top of head (vertex)
burrowing
morning
night
in open air
after dinner
walking in open air
forehead
forehead; left
forehead; sides of
back of head (occiput)
back of head (occiput); left
sides
sides; late morning
sides; while walking in open air
temples
temples; midnight
temples; after dinner
cramping; temples
left
cutting, darting, stabbing
while standing
forehead
forehead; while standing
temples
pulling
morning
afternoon
in bed
when holding breath
while standing
stretching
when waking
forehead
forehead; morning
forehead; morning; on waking
forehead; while standing
forehead; extending to other parts; eyes
forehead; extending to other parts; nose
forehead; above eyes
forehead; above root of nose
back of head (occiput)
back of head (occiput); afternoon
back of head (occiput); in bed
back of head (occiput); after eating
temples
dull pain
morning
must move head, and close eyes
forehead
temples
grinding
forehead
forehead; above left eyebrow
jerking
piercing, stabbing (see cutting); as from a nail
sides
sides; right
sides; walking about
pressing (see bursting, pulling)
morning
morning; on waking
noon
evening
in open air
deep-seated
pressing downward
pulling
on movement
outward
comes on suddenly
while sitting
as if in a vice
while walking; while in open air
as from weight
as if brain pressing; outward
forehead
forehead; morning
forehead; morning; on waking
forehead; inward
forehead; while sitting
forehead; on waking
forehead; extending to other parts; inward
forehead; extending to other parts; to nose
forehead; above eyebrows
forehead; above eyebrows; left
forehead; over eyes
forehead; extending to sides of head
back of head (occiput)
sides
sides; right
temples
temples; noon
temples; during dinner
top of head (vertex)
top of head (vertex); morning
top of head (vertex); night
shooting (see cutting, piercing, stabbing, shocks, stitches, etc.)
forehead
forehead; over eyes
forehead; over eyes; left
forehead; over eyes; morning on waking
back of head (occiput)
back of head (occiput); diagonally across
side
temples
top of head (vertex)
sore bruised, sensitive to pressure
back of head (occiput)
sides; in spots
stitching, sudden, sharp
morning
on certain movements; on rising
after talking
forehead
forehead; after rising
forehead; above eyebrows
forehead; above eyebrows; from noise
forehead; over eyes
forehead; over nose
forehead; sides of forehead
back of head (occiput); extending across
back of head (occiput); sides; extending side to side
side of head; alternating sides
temples
temples; right
temples; after talking
stunning
morning
forehead
tearing, rending
apart (see bursting)
jerking
forehead
forehead; over eyes
forehead; above nose
back of head (occiput)
back of head (occiput); morning
back of head (occiput); at sides
sides of head
temples; right
top of head (vertex)
top of head (vertex); extending to ear
as if torn
Shocks, blows, jerks, etc. (see jerking pain, pulsation, plug, nail)
like electric shocks
extending from elbow to head
Scalp
Pain, headache; from touch; from touching the hair
pressing (see bursting, pulling); temples; touching the hair
Skin and scalp; out-break on skin
out-break on skin; crusts, scabs
out-break on skin; eczema
out-break on skin; herpes
out-break on skin; pimples
out-break on skin; like nettle rash
like insects crawling on skin
itching
morning
night
gnawing, biting
scratching
forehead
perspiration; scalp
perspiration; forehead
wens