Amanita, Toad Stool, Bug Agaric, Agaric, Amanita Muscaria, Agar.
HPUS
indication of Agaricus Muscarius:
Numbness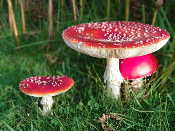 Below are the main rubriks (i.e strongest indications or symptoms) of Agaricus Muscarius in traditional homeopathic usage, not approved by the FDA.


Have you ever used Agaricus Muscarius? Yes No


< < Agaricus Muscarius- main page
HEAD
Head
Semilateral cephalalgia; pulling and pressing with confusion in the head.
Beating in the vertex, with almost furious despair.
A jerking sensation in the forehead and in the temple.
Headache
Piercing pains in the head when seated.
Dull pain, chiefly in the forehead, with drawing of the eyelids.
Drawing pains in the head, extending to the eyes and root of nose, principally on waking in the morning.
Pain, as if a nail were driven into the head; agg. when sitting quietly; amel. by slowly moving about.
Digging pain and sensation as from a bruise in the brain.
Scalp
Pressure in the head to the bottom of the brain, increased by pressure or contact of the hair, and accompanied by a complete loss of energy.
Sensation of icy coldness in the head; on the scalp, r. side of frontal bone.
Great sensitiveness of the scalp, as from subcutaneous ulceration.
Itching of the hairy scalp, esp. early in the morning.
≡ more ...