Amanita, Toad Stool, Bug Agaric, Agaric, Amanita Muscaria, Agar.
HPUS
indication of Agaricus Muscarius:
Numbness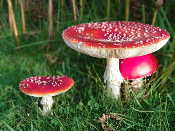 Have you ever used Agaricus Muscarius? Yes No


< < Agaricus Muscarius- main page

Below are the main rubriks (i.e strongest indications or symptoms) of Agaricus Muscarius in traditional homeopathic usage, not approved by the FDA.
HEAD
Headache
Drawing or stitching pains in head, shifting from side to side.
Dull headache, especially in forehead; must move head to and fro and close the eyes as for sleep.
Dull, drawing headache in morning, extending into root of nose, with nosebleed or thick mucous discharge.
Pain as though sharp ice touched the head or cold needles pierced it.
Violent oppressive pains, chiefly in forehead.
Headaches of those who are subject to chorea, or who readily become delirious in fever or with pain; twitching or grimaces.
Outer head
Sensation of coldness on right side of frontal bone, though warm to the touch.
Icy coldness in region of coronal suture after scratching.
Twitching of head and cervical muscles, worse on right side.
Inner head
Tearing and pressure in left half of the brain.
Pressing in right side, as if a nail were thrust in, worse sitting quietly; better moving slowly about.
≡ more ...