Amanita, Toad Stool, Bug Agaric, Agaric, Amanita Muscaria, Agar.
HPUS
indication of Agaricus Muscarius:
Numbness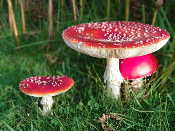 Have you ever used Agaricus Muscarius? Yes No


< < Agaricus Muscarius- main page

Below are the main rubriks (i.e strongest indications or symptoms) of Agaricus Muscarius in traditional homeopathic usage, not approved by the FDA.
HEAD
Head
Pain in the head as if from a nail. There is some bleeding in the morning, and the blood is thick, black and will hardly drop. Coldness in the head.
The head is in constant motion as in chorea. Itching of the scalp, especially in the morning on rising.
Headache
It is a common feature for the headaches of Agaricus Muscarius to be associated with the spinal symptoms, the quivering and jerking.
aches in spinal patients. Pain as though sharp ice touched the head, or as if from cold needles. - That is general; we find it in other parts.
Scalp
In the scalp there are all sorts of queer sensations; icy coldness after itching or scratching. That runs all through the body. There is itching, although no eruption is visible; can't let it alone, and after scratching there is a sensation of icy coldness in the part or as if the wind was blowing on it.
There again we have the general aggravation in the morning. There are marked eruptions on the scalp. Eczema with crusts.
≡ more ...