Amanita, Toad Stool, Bug Agaric, Agaric, Amanita Muscaria



Available
in 2C-30C, 200C, 2X-30X, 200X, 1M-50M, CM from $6.50
Purchase options
HPUS indication of Agaricus Muscarius: Numbness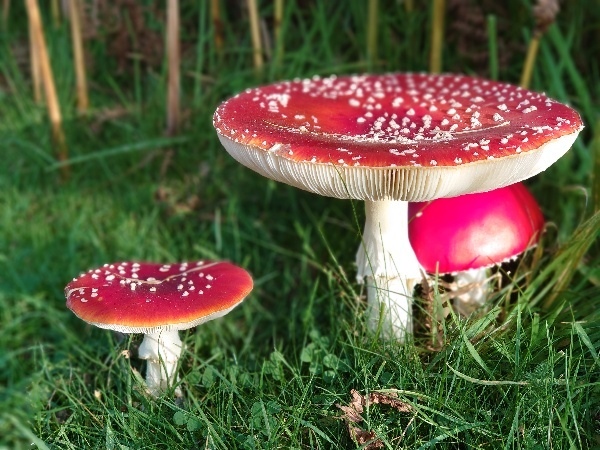 Homeopathic remedies are prescribed on the basis that in a tiny dilution like cures like, so while very dilute Agaricus Muscarius may help, unprocessed Agaricus Muscarius may be best avoided.
Below are the main rubriks (i.e strongest indications or symptoms) of Agaricus Muscarius in traditional homeopathic usage, not reviewed by the FDA.
< < Agaricus Muscarius - main page
MIND
Mind
Sings, talks, but does not answer
Loquacity
Aversion to work
Indifference
Fearlessness
delirium characterized by singing, shouting, and muttering; rhymes and prophesies
Begins with paroxysm of yawning.
The provings bring out four phases of cerebral excitement.
1
Slight stimulation - shown by increased cheerfulness, courage, loquacity, exalted fancy.
2
More decided intoxication - great mental excitement and incoherent talking, immoderate gaiety alternates with melancholy
Perception of relative size of objects is lost, takes long steps and jumps over small objects as if they were trunks of trees - a small hole appears as a frightful chasm, a spoonful of water an immense lake
Physical strength is increased, can lift heavy loads
With it much twitching.
3
Third stage - produces a condition of furious or raging delirium, screaming, raving, wants to injure himself, etc.
4
Fourth stage - mental depression, languor, indifference, confusion, disinclination to work, etc
We do not get the active cerebral congestion of Belladonna Belladonna, but a general nervous excitement such as is found in delirium tremens, delirium of fevers, etc.
Aversions, dislikes; open air
business
indolence, aversion to work
evening
after dinner
after eating
thinking
being touched
aversion to mental work
to being spoken to
Behaviour; dancing
dancing; grotesque
destructive
embraces; companions
attempts to escape
fidgets with everything
foolish behaviour
makes gestures; of hands; as if winding a ball
makes gestures; violent
habits; boring fingers in ear
habits; clinch teeth together
industrious
jumping
mischievous
nymphomania
runs about (see escape)
shrieking
singing
alternating with; stress
inclination to sit
throws things at people
Dazed
morning
during vertigo, dizziness
Delirium
with exaltation of strength
fierce
cheerful
alternating with melancholy
during headache
talks a lot
raging, raving
romping with children
silent
violent
Delusions, imaginations, hallucinations, illusions
death; sees dead persons
death; corpse on a bier; sister
environment and surroundings; is in hell; at gate of hell, obliged to confess sins
environment and surroundings; small hole, appears like a frightful chasm
illusions of fantasy
hears sounds; voices
about self; body; arms; do not belong to her
about self; body; size; diminished; whole body is diminished
about self; body; size; sensation of being smaller
about self; is under control of another; superhuman
about self; is under control of another; is commanded to fall on his knees, confess his sins and rip up his bowels, by a mushroom
about self; identity; is great person
about self; identity; that he is an officer
visions or presence of phantoms, figures, people; converses with absent people
visions or presence of phantoms, figures, people; spectres, ghosts, spirits
water; a spoonful of water seems like a lake
Desires, wants; to kill
to kill; on waking
sex, lustful
Symptoms follow intense emotions; anger
Excitement
evening
alternates with other symptoms; delirium
Mental exertion
Fantasies; of exaltation
Emotions, feelings, attitude, disposition; audacity
anger (see irritability and quarrelsome)
cheerful, happy
evening
alternating with other states of mind; sadness
courageous
cowardice
ecstatic
exhilaration
hatred
haughty
impatience; impetuous; heedless
impulsive; capriciousness
inconstancy
indecisive
indifference, apathy, etc.
to business affairs
to everything
irritability
morning; on waking
after sexual intercourse
on waking
laughing
involuntarily
malicious
mirth, hilarity, liveliness, etc.
foolish
morose
pities herself
quarrelsome, argumentative
rage, fury (see insanity, mania, delirium)
with religious excitement
constant
mischievous
strength increased
violent
selfishness
sensitive, oversensitive; easily offended
sulky
unhappy; despair
discouraged
unhappy; discontent, displeased, dissatisfied, etc.
unhappy; grief
unhappy; wants to injure self; frenzy, causing to injure self
unhappy; sadness, mental depression
morning
afternoon
evening
after exertion
from masturbation
about things of little importance
Hysteria
after sexual excesses
Intellectual faculties; bright, intelligent, clear; abundant ideas, clearness of mind
bright, intelligent, clear; abundant ideas, clearness of mind; evening; in bed
bright, intelligent, clear; inquisitive, curious
impaired thinking; absent-minded (see forgetful)
impaired thinking; chaotic
impaired thinking; difficulty concentrating
impaired thinking; confusion
morning
on waking
afternoon
in open air
after eating
as after being intoxicated
while reading
while walking
while walking; in open air
impaired thinking; dull, sluggish
morning
impaired thinking; idiocy
impaired thinking; imbecility
impaired thinking; mistakes; speaking
after exertion
impaired thinking; mistakes; using wrong words
impaired thinking; weakness of mind
ideas; abundant ideas, clearness of mind
evening; in bed
Insanity
mania, madness; from drinking (delirium tremors)
strength increased
Insecure, uncertain, scared; anxiety
anxiety; evening
anxiety; night
anxiety; breathing deeply
anxiety; about future
anxiety; after period
anxiety; which prevents sleep
anxiety; from noise
anxiety; during sleep (see dreams)
anxiety; sleep; after period
anxiety; on waking
fear
of disease
of evil
of having a fit
of insanity
of misfortune
of suffocation; night
frightened easily; starting, startled; evening; jerking or twitching, ceasing on falling asleep
frightened easily; starting, startled; like electric shocks
frightened easily; starting, startled; on falling asleep
Memory; active memory
active memory; evening
forgetful
of words while speaking
weakness of memory
for what has just done
for what has heard
for people
for what has just thought
for words
Occupation
Perception; incorrect judge of size
does not recognise his relatives
senses; dull
Preoccupied; making plans; revengeful
prophesying
talks of one subject; talks of war
Restlessness, nervousness
evening
night; 3 a.m.
internal
Mental symptoms from sexual excesses
Sighing (see respiration)
Sleep-walking
Talking, conversation; aversion to answering
aversion to answering; sings, talks, but will not answer questions
answers not lucid; refuses to answer
obstinate
dislike of talking, desire to be silent, taciturn
of others
slow learning to talk
reveals secrets
speech; incoherent
speech; merry
talkative
but does not answer questions
changing quickly from one subject to another
talks of one subject; talks of war
makes verses
Thinking of complaints
Unconsciousness
morning
alternating with convulsions
after sexual intercourse
during vertigo, dizziness