Amanita, Toad Stool, Bug Agaric, Agaric, Amanita Muscaria, Agar.
HPUS
indication of Agaricus Muscarius:
Numbness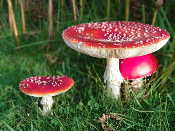 Have you ever used Agaricus Muscarius? Yes No


< < Agaricus Muscarius- main page

Below are the main rubriks (i.e strongest indications or symptoms) of Agaricus Muscarius in traditional homeopathic usage, not approved by the FDA.
MIND
Mind
Sings, talks, but does not answer
Loquacity
Aversion to work
Indifference
Fearlessness
delirium characterized by singing, shouting, and muttering; rhymes and prophesies
Begins with paroxysm of yawning.
The provings bring out four phases of cerebral excitement.
1
Slight stimulation - shown by increased cheerfulness, courage, loquacity, exalted fancy.
2
More decided intoxication - great mental excitement and incoherent talking, immoderate gaiety alternates with melancholy
Perception of relative size of objects is lost, takes long steps and jumps over small objects as if they were trunks of trees - a small hole appears as a frightful chasm, a spoonful of water an immense lake
Physical strength is increased, can lift heavy loads
With it much twitching.
3
Third stage - produces a condition of furious or raging delirium, screaming, raving, wants to injure himself, etc.
4
Fourth stage - mental depression, languor, indifference, confusion, disinclination to work, etc
We do not get the active cerebral congestion of Belladonna Belladonna, but a general nervous excitement such as is found in delirium tremens, delirium of fevers, etc.
≡ more ...