Amanita, Toad Stool, Bug Agaric, Agaric, Amanita Muscaria, Agar.
HPUS
indication of Agaricus Muscarius:
Numbness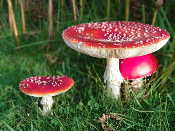 Below are the main rubriks (i.e strongest indications or symptoms) of Agaricus Muscarius in traditional homeopathic usage, not approved by the FDA.


Have you ever used Agaricus Muscarius? Yes No


< < Agaricus Muscarius- main page
MIND
Mind
Aversion to conversation.
Indisposed to perform any kind of labour, esp. mental.
Exuberant fancy.
Ecstasy.
Inclination to make verses and to prophesy.
Mania, timid, or furious, with great display of strength.
Embraces companions and kisses their hands; alternately with vexation.
Silly merriness.
Great loquacity; sings, talks, but does not answer questions.
Delirium, tries to get out of bed.
Delirium constant, knows no one, throws things at the nurse.
Delirium tremens.
Morose, self-willed, stubborn, slow in learning to walk and talk.
≡ more ...