Amanita, Toad Stool, Bug Agaric, Agaric, Amanita Muscaria, Agar.
HPUS
indication of Agaricus Muscarius:
Numbness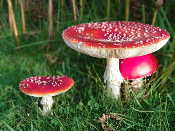 Have you ever used Agaricus Muscarius? Yes No


< < Agaricus Muscarius- main page

Below are the main rubriks (i.e strongest indications or symptoms) of Agaricus Muscarius in traditional homeopathic usage, not approved by the FDA.
MIND
Mind
Dejection of mind.
Despondency.
Anxious forebodings, as if she were about to experience something disagreeable.
Unsteadiness and restlessness of spirit and of body (after ½ hour.).
The mind is restless and troubled; he was always solely occupied with his present and his future condition.
Disinclination to speak, without being ill-humored.
He compels himself to speak, but answers in few words, though otherwise cheerful.
It seems as if he could not find the words to express himself.
Disinclination to speak with fretfulness, peevishness and disinclination to work.
Fretful mood.
Very peevish and irritable.
Ill-humored and indifferent.
While at other times full of great solicitude, she is now altogether indifferent.
Indifferent, self-absorbed mood with aversion to all occupation.
Disinclination to all work. .
He trifles with all manner of things, merely to avoid working.
Disgust for all work which occupies the mind, and if he nevertheless undertakes it, there arise a rush of blood to the head, throbbing in the arteries, flushes in the face, and the thinking faculty is disturbed.
Forgetful; he finds it difficult to recall what he has before heard and thought.
Loss of consciousness.
Drunken fearless frenzy with bold, vengeful determinations.
Shy insanity.
Frenzy.
Fearless, threatening, destructive frenzy, also such as turns against itself and injures itself, combined with great exertion of strength.
Causes cheerfulness.
Cheerful, careless mood.
Cheerful mood but without any impulse toward conversation.
Extravagant fancy, rapture, prophesying, making verses.
Quiet, equable, sociable, active, and glad of having done his duty (curative action).
≡ more ...