Amanita, Toad Stool, Bug Agaric, Agaric, Amanita Muscaria, Agar.
HPUS
indication of Agaricus Muscarius:
Numbness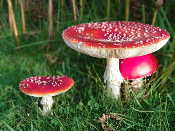 Have you ever used Agaricus Muscarius? Yes No


< < Agaricus Muscarius- main page

Below are the main rubriks (i.e strongest indications or symptoms) of Agaricus Muscarius in traditional homeopathic usage, not approved by the FDA.
MIND
Mind
Cannot find the proper word, uses wrong words; worse after exertion; sleepless nights.
Confusion of the head, heaviness, as after intoxication.
Ecstasy; fancies excited; makes verses.
Delirium, tries to get out of bed.
Great exertion of power with delirium.
Great loquacity, convulsive motions of facial and cervical muscles, mostly right side, drawing head down to shoulder, merry, incoherent talk; followed by malaise.
Sings, talks, but does not answer questions.
Disinclined to answer questions.
Indisposed to perform any labor, especially mental.
She is indifferent, though naturally very solicitous.
Very much out of humor.
Protracted mental applications or exciting debated bring on vertigo.
≡ more ...