Amanita, Toad Stool, Bug Agaric, Agaric, Amanita Muscaria, Agar.
HPUS
indication of Agaricus Muscarius:
Numbness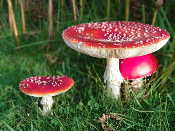 Have you ever used Agaricus Muscarius? Yes No


< < Agaricus Muscarius- main page

Below are the main rubriks (i.e strongest indications or symptoms) of Agaricus Muscarius in traditional homeopathic usage, not approved by the FDA.
MODALITIES ETC
Worse
sitting quietly, standing.
WORSE: open cold air, after eating, after coitus. In cold weather, before a thunder-storm. Worse, pressure on dorsal spine, which causes involuntary laughter.
Air COLD
FREEZING
OPEN
Stormy
Exhaustion Mental
Coition Debauchery
Alcohol
Pressure
Touch
Morning
During menses
Better
Gentle motion.
BETTER: moving about slowly.
Gentle motion
Desires and aversions
Much hunger, but no appetite early in the morning.
Burning thirst. θ Typhus.
Position etc
Rest symptoms generally worse. Motion 3, 28, 31, 44. Walking 2, 28, 31, 33, 44. Exertion 1, 40. Sitting 3, 28, 29. Bending 29, 31.
Morning 3, 11, 14, 20, 31, 44. Forenoon 27, 44. Evening 29. Night 27, 33, 40.