Amanita, Toad Stool, Bug Agaric, Agaric, Amanita Muscaria Agar.
HPUS
indication of Agaricus Muscarius:
Numbness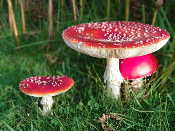 Below are the main rubriks (i.e strongest indications or symptoms) of Agaricus Muscarius in traditional homeopathic usage, not reviewed by the FDA.
< < Agaricus Muscarius- main page
MOUTH
Mouth
Twitching
Aphthae on roof of mouth
Thirsty all the time
Lips
Burning and smarting on lips
Herpes on lips
Tongue
Splinter like pains in tongue
Tremulous tongue ( Lachesis Lach.) Tongue white.
Taste
Taste sweet
≡ more ...