Amanita, Toad Stool, Bug Agaric, Agaric, Amanita Muscaria, Agar.
HPUS
indication of Agaricus Muscarius:
Numbness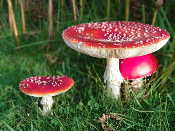 Have you ever used Agaricus Muscarius? Yes No


< < Agaricus Muscarius- main page

Below are the main rubriks (i.e strongest indications or symptoms) of Agaricus Muscarius in traditional homeopathic usage, not approved by the FDA.
MOUTH
Gums and teeth
Tearing in lower molars, worse from cold air.
Swelling and bleeding of the gums.
Shooting from right lower teeth up to right side of head.
Tongue
Left side of tongue numb.
Tongue dry; coated white, mornings; sore; smarting; burning tip, as from pepper.
Tremulous propulsion of the tongue; inarticulate speech. θ Chorea.
Taste
Smell from mouth; offensive, like that after eating Cochlearia Armoracia horse-radish.
≡ more ...