Amanita, Toad Stool, Bug Agaric, Agaric, Amanita Muscaria, Agar.
HPUS
indication of Agaricus Muscarius:
Numbness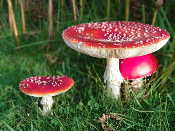 Below are the main rubriks (i.e strongest indications or symptoms) of Agaricus Muscarius in traditional homeopathic usage, not approved by the FDA.


Have you ever used Agaricus Muscarius? Yes No


< < Agaricus Muscarius- main page
MOUTH
Mouth
eats it away. Soreness of the tongue. Mercurial aphthae in roof of mouth. Little white blisters like nursing sore mouth. Chronic sore throat. Induration of tonsils. Burning thirst, ravenous appetite. Gnawing in stomach as if from hunger, without desire for food.
Gums and teeth
The teeth feel too long and are sensitive to touch. The tongue quivers, twitches, jerks and causes disorderly speech; articulates violently.
Tongue
Tongue, dry, tremulous. Learns to speak with difficulty. Spasms of the tongue, inarticulate speech. Phagedenic ulcer on the fraenum of the tongue.
≡ more ...