Amanita, Toad Stool, Bug Agaric, Agaric, Amanita Muscaria, Agar.
HPUS
indication of Agaricus Muscarius:
Numbness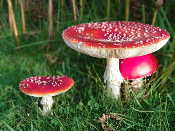 Have you ever used Agaricus Muscarius? Yes No


< < Agaricus Muscarius- main page

Below are the main rubriks (i.e strongest indications or symptoms) of Agaricus Muscarius in traditional homeopathic usage, not approved by the FDA.
NOSE
Nose
NERVOUS nasal disturbances
ITCHING internally and externally
Inner angles very red
Fetid, dark, bloody discharge
Nosebleed in old people
Sensation of soreness in nose and mouth.
Discharge
Spasmodic sneezing after coughing; sensitiveness; watery non-inflammatory discharge
≡ more ...