Amanita, Toad Stool, Bug Agaric, Agaric, Amanita Muscaria, Agar.
HPUS
indication of Agaricus Muscarius:
Numbness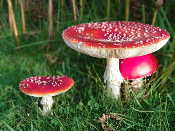 Have you ever used Agaricus Muscarius? Yes No


< < Agaricus Muscarius- main page

Below are the main rubriks (i.e strongest indications or symptoms) of Agaricus Muscarius in traditional homeopathic usage, not approved by the FDA.
NOSE
Nose
Excoriation and inflammation of the nostrils, with painful sensibility.
Itching in the interior and on the exterior of the nose.
Blood on blowing the nose, and bleeding at the nose.
Increased acuteness of smell.
Discharge
Frequent sneezing without coryza. Dryness of the nose.
Flow of clear water from the nose, without coryza.
≡ more ...