Amanita, Toad Stool, Bug Agaric, Agaric, Amanita Muscaria, Agar.
HPUS
indication of Agaricus Muscarius:
Numbness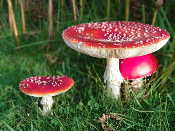 Below are the main rubriks (i.e strongest indications or symptoms) of Agaricus Muscarius in traditional homeopathic usage, not approved by the FDA.


Have you ever used Agaricus Muscarius? Yes No


< < Agaricus Muscarius- main page
NOSE
Nose
On the nose a sudden pressure on the upper part of the dorsum of the nose.
Sharp stitches in the left side of the root of the nose.
Great sensitiveness of the inner walls of the nose.
Itching on the outer surface of the nose.
Violent itching on the alae of the nose, compelling him to rub.
Tickling itching in the left nostril, that compels rubbing (aft. 14 h.).
Burning pain in the nose and the eyes (from the vapor).
Soreness and inflammation of the internal parties of the nose.
Blowing of blood from the nose in the morning immediately after rising from bed, followed by violent bleeding from the nose (aft. 33 h.) .
Epistaxis.
Increased acuteness of olfaction.
Dryness of the nose.
Constant dryness of the nose only once or twice a day two or three drops of water flow down.
While stooping down, clear water drops from the nose.
After snuffing a little tobacco, there immediately follows a copious flow of viscid mucus from the nose.
Copious discharge of thick mucus from the nose on blowing it (aft. 5 d.).
Dry white mucus in small quantities in the nose, with a frequent sensation as if it contained much mucus.
Hoarseness and roughness of the throat.
Upon slightly hawking, small balls of mucus are detached.
Expectoration of small flakes of mucus or firm pellets of mucus, almost without any cough.
Irritation to cough.
Often returning tickling irritation in the bronchia, causing a slight cough.
Frequent cough after meals, without expectoration.
A dry cough after dinner, while sitting down, disturbs his after-dinner nap.
Discharge
Pricking in the right nostril and eye, as from an incitation to sneezing.
Sneezing without catarrh.
Frequent sneezing without coryza (aft. 12, 22 h.).
Frequent sneezing, always twice in succession (on 1st d.).
Repeated sneezing immediately after taking the medicine.
Early in the morning repeated severe sneezing while in bed.
Dryness of the nose, with sensation of coryza.
Frequent dropping of clear water from the nose, without coryza.
Coryza, in the afternoon.
Sudden coryza with sneezing.
Coryza with stopping of the nose, especially while stooping down (on 7th d.).
Dry coryza.
Fluent coryza.
≡ more ...