Amanita, Toad Stool, Bug Agaric, Agaric, Amanita Muscaria, Agar.
HPUS
indication of Agaricus Muscarius:
Numbness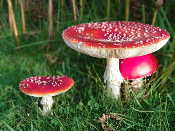 Have you ever used Agaricus Muscarius? Yes No


< < Agaricus Muscarius- main page

Below are the main rubriks (i.e strongest indications or symptoms) of Agaricus Muscarius in traditional homeopathic usage, not approved by the FDA.
RECTUM, ANUS, STOOL
Stool
The whole day a constant sensation in the bowels as if there should be a stool, which having been passed copiously in the morning only ensues again late in the evening.
Constipation for two days.
After several days' constipation, a solid stool.
Stools are passed every other day and are solid.
The stool, which before that came daily, is lacking for three days and then is solid.
Stool of very hard faeces.
Hard dark-colored evacuations (on 3d d.).
Knotty stool at night after violent colicky pains, with subsequent severe tenesmus and urging to stool without effect (on 3d d.).
First a knotty stool and after a quarter of an hour a watery stool with violent colicky pains, fermentation in the abdomen and great nausea.
First a solid stool, then a pappy stool and a short time after a diarrhoea-like evacuation.
Colic followed by a knotty stool, then diarrhoeic, early in the morning (on 2d d.).
Soft stools, after the previous usual morning stool had properly been passed.
Soft, pap-like stool, every day.
The evacuations become pappy (on 6th d.).
Passage of a large quantity of pappy stool (aft. 12-38 h.).
Watery stool with violent colic and urging, early in the morning (on 3d d.).
Diarrhoeic stools with violent pinching in the abdomen, early in the morning (on 2d d.).
Five consecutive passages of fluid, yellow faeces with pinching in the hypogastrium and passage of flatus without smell.
Stools of diarrhoea with passage of much flatus (aft. 6h.).
Slimy diarrhoea with much flatus.
Passage of mucus in the stool with flatus.
Before and during the stool, violent pinching and cutting in the abdomen.
During the diarrhoeic stool, painful drawing inward of the stomach and belly.
During and after the stool, itching in the anus (on 3d and 4th d.).
After the stool, belly-ache, as from poison, early in the morning (on 7th, 9th d.).
After the stool, gurgling in the belly.
In the anus tickling itching, compelling scratching (aft. ¾ h.).
Itching and creeping in the anus.
Creeping in the anus (aft. 3 h.).
Prickling in the anus, as from worms.
≡ more ...