Amanita, Toad Stool, Bug Agaric, Agaric, Amanita Muscaria Agar.
Available
in 2C-30C, 200C, 4X-30X, 1M-50M, 30C, 200CH from $6.59
Purchase options
HPUS
indication of Agaricus Muscarius:
Numbness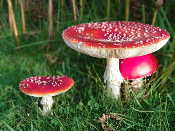 Below are the main rubriks (i.e strongest indications or symptoms) of Agaricus Muscarius in traditional homeopathic usage, not approved by the FDA.
< < Agaricus Muscarius- main page
RECTUM, ANUS, STOOL
Stool
Grass green, bilious; thin, yellow, fecal, slimy; pappy, with cutting in the abdomen and much wind; bloody, dysenteric.
Diarrhoea mostly in the morning, after rising and eating, with much rumbling; crampy colic and passing of wind.
Passes much inodorous flatus.
≡ more ...