Amanita, Toad Stool, Bug Agaric, Agaric, Amanita Muscaria, Agar.
HPUS
indication of Agaricus Muscarius:
Numbness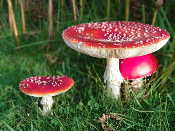 Have you ever used Agaricus Muscarius? Yes No


< < Agaricus Muscarius- main page

Below are the main rubriks (i.e strongest indications or symptoms) of Agaricus Muscarius in traditional homeopathic usage, not approved by the FDA.
VERTIGO, DIZZINESS
Vertigo
Vertigo from sunlight, and on walking
Morning
Morning; late morning
Afternoon
In open air
Open air
On entering dark room
Tendency to fall over
falling backward
falling forward
During headache
From heat; of sun
In house
As if intoxicated
From looking at.; looking at a moving object
While meditating
thinking of something else
while walking in open air
In women; after period
Mental exertion
Movement; moving the head quickly
From movement
moving the head
on turning
With nausea
Perception of objects distorted; seem to turn in a circle
Comes on suddenly
Periodical, recurring, seasonal; regularly
Reeling
On rising; from bed
While standing; with staggering
Sudden
From sunlight and heat
With obscuring of vision
While walking
while in the open air
sensation of gliding in the air, as if feet did not touch the ground, while walking
When yawning
≡ more ...