Amanita, Toad Stool, Bug Agaric, Agaric, Amanita Muscaria, Agar.
HPUS
indication of Agaricus Muscarius:
Numbness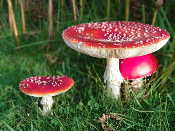 Have you ever used Agaricus Muscarius? Yes No


< < Agaricus Muscarius- main page

Below are the main rubriks (i.e strongest indications or symptoms) of Agaricus Muscarius in traditional homeopathic usage, not approved by the FDA.
VERTIGO, DIZZINESS
Vertigo, dizziness
Pleasant intoxication.
Drunkenness.
Reeling and sinking down (on 2d d.).
Reeling when walking in the open air (aft. 1 h.).
Reeling as from spirituous liquors; in walking in the open air the staggers about.
Vertigo
Dizziness, stupefaction.
Dizziness as from intoxication.
Vertigo.
Vertigo and stupidity in the morning (aft. 3 h.).
Vertigo in the morning as after a spree (aft. ¼ h.) .
Vertigo coming on especially in the morning and lasting for 1-8 minutes, returning after short intervals several times during the day.
Strong sun-light in the morning causes a momentary vertigo, even to falling down.
Attacks of vertigo with a tottering gait and obscuration of the vision even as to near objects, coming and going at intervals of five minutes; this can only be entirely removed by the reception of different ideas.
Vertigo while meditating while walking in the open air (aft. 8 d.).
Attacks of vertigo in the open air which passed away in the room, for several days.
Vertigo in the room while turning around.
Vertigo which passes away for a length of time by quickly turning about or by turning the head.
Violent pressive pain in the forehead with vertigo, while sitting down.
≡ more ...