Cayenne Pepper, Capiscum, Capsic, Capsic., Capsicum, Caps.
HPUS
indication of Capsicum Annuum:
Fever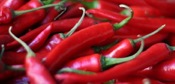 Have you ever used Capsicum Annuum? Yes No


< < Capsicum Annuum- main page

Below are the main rubriks (i.e strongest indications or symptoms) of Capsicum Annuum in traditional homeopathic usage, not approved by the FDA.
EARS
Ear
Burning and stinging in ears
Swelling and pain behind ears
inflammation of mastoid
tenderness over the petrous bone; extremely sore and tender to touch ( Onosmod.) Otorrhoea and mastoid disease before suppuration.
Bones threatening to decay
the part of the skull sticking out slightly, behind the ear (mastoid process)
skull, above ear
Discharges from ear
decay threatening
catarrh in Eustachian tube (tube connecting ear to nose)
pus
from middle ear
Heat
evening
Inflammation
generating pus
inside
media
skull, above ear
Itching; in ear
Pain
during cough
behind ear
below the ear
inside (in ear canal)
aching
burning
bursting sensation
on coughing
pressing
when coughing
soreness; behind
stitching, sudden, sharp
tearing in
behind the ear
bowl-like part, by ear canal (concha)
Skin
abscess; behind
discoloration; redness
Swelling
behind
behind; around the bone
below
Hearing
Impaired
after burning and stinging
catarrh of Eustachian tube (tube connecting ear to nose)
during pregnancy
Lost, deafness
Too sensitive
during chill
during heat
to noises
while perspiring
≡ more ...