Cayenne Pepper, Capiscum, Capsic, Capsic., Capsicum, Caps.
HPUS
indication of Capsicum Annuum:
Fever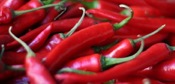 Have you ever used Capsicum Annuum? Yes No


< < Capsicum Annuum- main page

Below are the main rubriks (i.e strongest indications or symptoms) of Capsicum Annuum in traditional homeopathic usage, not approved by the FDA.
FEVER AND CHILL
Fever and chill
Afternoon
Evening
Evening; after lying down
Night
In the open air
Open air
exercise in open air
On going into the cold air
From the least draft of air
In bed
when turning over in bed
Beginning in particular area
back
back; between the shoulder blades
Chilliness (see also whole body
temperature)
temperature); evening
temperature); night
temperature); during intermission of fever
temperature); with perspiration
Drinking
External
Internal
During movement
Movement
With pain
Periodic, recurring
recurring daily
recurring every third day
regular and distinct intervals
Dangerously cold
With perspiration; after chill
With fever, but chill predominating
Shaking, shivering, rigors
morning
evening
from a draft of air
on drinking
while eating
long-lasting (see succession of stages, fever)
during movement
partial
After sleep
During stool
In summer
At certain time of day or night
from 10-30 a.m.
from 5 p.m.
to 6 p.m.
from 6 p.m.
Trembling and shivering
When uncovering, undressing
Warmth
external warmth
hot water bottle or electric blanket
In warmth; in warm weather
Sensation of cold water; trickled down the back
Late morning
Afternoon
Evening
Night
Night; with perspiration
Localised; front of body
Burning heat
With chill
Continued fever
abdominal
with small, purple spots
Shivering from drinking cold water
External heat
Heat absent
Hectic fever
Intense heat
during sleep
Internal heat
burning
with external chill
Long lasting heat
Movement
No perspiration
Perspiration with heat
With shivering; from drinking
Shuddering; with the heat
Heat comes on during sleep
Stages of chill, heat and sweat
chill followed by heat
chill followed by heat, then sweat
chill followed by heat, with sweat
chill then sweat, without intervening heat
heat followed by chill
heat alternating with chill, then with cold sweat
chill followed by sweat, then heat
chill, then sweat with heat
Summer, hot season
Walking in open air
≡ more ...