Cayenne Pepper, Capiscum, Capsic, Capsic., Capsicum, Caps.
HPUS
indication of Capsicum Annuum:
Fever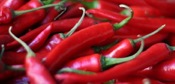 Have you ever used Capsicum Annuum? Yes No


< < Capsicum Annuum- main page

Below are the main rubriks (i.e strongest indications or symptoms) of Capsicum Annuum in traditional homeopathic usage, not approved by the FDA.
FEVER AND CHILL
Fever
Chilliness.
Trembling on account of shivering,
Shivering and chilliness after every drink,
Gradual diminution of the warmth of the body,
Coldness over the whole body; the limbs are cold without shivering,
General coldness in the evening after lying down, followed by coryza (after seventy-two hours),
As the coldness of the body increases, also the ill-humor and the contraction of the pupils increased,
He becomes chilly from a little air in bed,
Chill in the evening,
Chill and coldness the first night; the following nights sweat all over,
Chill in the afternoon, lasting some time (half an hour or an hour); during which she lay warmly covered; after the chill the skin burned and itched more than before (fifth day),
(Febrile chill in the evening, with third (without heat and without yawning or stretching), with great weariness, short breath, sleepiness, and fretfulness; shivering on the slightest motion, without cold sensation and without being cold; he did not feel too warm, though he was in a hot room),
He is averse to the cold air, especially to a draught; he cannot endure it (after twelve hours),
Shivering and coldness of the back in the evening, without subsequent heat or thirst, but followed by slight sweat,
Sensation in the thighs as though they were covered with cold sweat, when walking in the open air (as if cold air blew against the sweaty parts); the thighs, however, did not sweat,
The feet are cold as far as above the ankles and cannot be warmed, with general warmth of the rest of the body, in the morning (after twelve hours),
Heat
Heat over the whole body follows the disappearance of the pressure in the stomach, with increased redness of the face (after four hours),
(Internal heat, with cold sweat on the forehead),
Heat, with shivering and thirst,
Heat of the ears, and hot, red tip of the nose, towards evening,
Glowing hot cheeks, with cold hands and feet, without shivering, at noon, after eating, recurring at the same time for two days,
(Burning hands, feet, and cheeks; the latter are swollen),
≡ more ...