Cayenne Pepper, Capiscum, Capsic, Capsic., Capsicum, Caps.
HPUS
indication of Capsicum Annuum:
Fever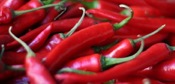 Have you ever used Capsicum Annuum? Yes No


< < Capsicum Annuum- main page

Below are the main rubriks (i.e strongest indications or symptoms) of Capsicum Annuum in traditional homeopathic usage, not approved by the FDA.
MOUTH
Gums and teeth
Pains in the teeth, as if they were set on edge, or elongated.
Pullings in the teeth, and in the gums.
Swelling of the gums.
Saliva
Viscid saliva in the mouth.
Tongue
Burning vesicles in the mouth and on the tongue.
≡ more ...