Cayenne Pepper, Capiscum, Capsic, Capsic., Capsicum, Caps.
HPUS
indication of Capsicum Annuum:
Fever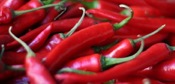 Have you ever used Capsicum Annuum? Yes No


< < Capsicum Annuum- main page

Below are the main rubriks (i.e strongest indications or symptoms) of Capsicum Annuum in traditional homeopathic usage, not approved by the FDA.
MOUTH
Mouth
Fetid odor, unbearable, carrion-like.
Burning blisters in the mouth, painful to touch.
Lips
Tongue and inside of lips full of flat, sensitive, spreading ulcers, with a lardaceous centre.
Gums and teeth
Gums hot, burning, swollen, or sensitive; spongy, retracted from the teeth.
Pain in teeth, which seem elongated, but not much worse on biting on them.
Saliva
Saliva viscid, offensive, copious, salivation during chill.
Tongue
Small burning blisters on tongue, painful to touch.
Taste
Taste insipid; sour; flat; watery; foul, like putrid water.
When coughing, the air from the lungs causes a strange, offensive taste in the mouth.
≡ more ...