Cayenne Pepper, Capiscum, Capsic, Capsic., Capsicum, Caps.
HPUS
indication of Capsicum Annuum:
Fever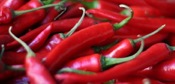 Have you ever used Capsicum Annuum? Yes No


< < Capsicum Annuum- main page

Below are the main rubriks (i.e strongest indications or symptoms) of Capsicum Annuum in traditional homeopathic usage, not approved by the FDA.
MOUTH
Mouth
General Mouth.
Gums and teeth
Teeth and Gums.
Drawing pain in the teeth, which was neither increased on touching the teeth nor on eating,
A tooth seems to him too long and raised up, and feels blunt,
Swelling of the gum,
Drawing pain in the gum,
Saliva
Dryness of the mouth,
Saliva.
Tough mucus in the mouth (after two hours),
Salivation,
Tongue
Tongue.
Pimples on the tip of the tongue, which sting and pain when touched,
Dry sensation on the forepart of the tongue, without thirst, in the morning (after eight hours),
Taste
Taste.
Sour taste of broth (after two hours),
Acid taste in the mouth,
A pungent acid taste in the mouth,
Taste as of bad water,
Flat, insipid, earthy taste (for example, of butter),
Watery, flat taste in the mouth, followed by heartburn,
≡ more ...