Vegetable Charcoal, Carbo Veg, Carboveg, Charcoal, Carbo-v, Carb-v.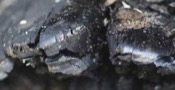 Below are the main rubriks (i.e strongest indications or symptoms) of Carbo Veg in traditional homeopathic usage, not approved by the FDA.


Have you ever used Carbo Veg? Yes No

EARS
Ear
Otalgia in the left ear.
Otalgia in the right ear, in the evening.
A straining outward in both ears (aft. 17 d.).
Fine pinching in the left ear.
Tearing in the inner part of the right ear.
Tearing pain in the pit behind the right ear.
Burning tearing pain on the lobules of the left ear.
Tearing jerks or single stitches in the right internal meatus auditorius.
Stitches passing inward in the left meatus auditorius (aft. 48 h.).
Itching on the upper part of the external ear, which then becomes hot.
Itching in the ears, with tendency to seek to diminish it by swallowing.
Violent crawling itching in the internal right ear, continually recurring after boring in it with the fingers.
Itching behind the ear.
Throbbing in the ears.
Heat and redness of the left ear, every evening.
Severe swelling of the parotid gland, extending to the angle of the lower jaw.
A thick brown matter is discharged from the right ear.
Discharge of a thickish, flesh-colored fetid liquid from the ear.
His ears feel obstructed, as from two little sandbags lying before the meatus auditorius.
A weight lies in and before the ears; they seem to him obstructed, but without diminution of hearing (aft. ½ h.).
Hearing
Loud talking affects the hearing and is disagreeable.
Ringing in the ears.
Ringing in the left ear, with a whirling vertigo.
Fine tinkling in the left ear, in the afternoon (aft. 40 h.).
Roaring in the ears.
Severe buzzing before both ears.
Chirping in the ears, as from locusts (7th d.).
Rustling in the ear as from straw, at every motion of the jaw (at breakfast).
≡ more ...