Vegetable Charcoal, Carbo Veg, Carboveg, Charcoal, Carbo-v, Carb-v.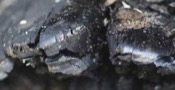 Below are the main rubriks (i.e strongest indications or symptoms) of Carbo Veg in traditional homeopathic usage, not approved by the FDA.


Have you ever used Carbo Veg? Yes No

EARS
Ears
Ringing in ears; buzzing.
Something heavy seems to lie before the ears; they seemed stopped, hearing not diminished.
Deafness after acute exanthema; abuse of Merc Viv mercury; ears too dry.
Offensive otorrhoea.
Deficient or badly-smelling cerumen, also with exfoliation of dermoid layer of meatus.
Left ear hot and red every evening.
Pain from right ear down the neck on turning the head.
θ After itch-like eruptions.
Parotitis, swelling grows hard.
≡ more ...