Vegetable Charcoal, Carbo Veg, Carboveg, Charcoal, Carbo-v, Carb-v.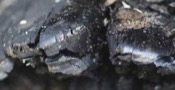 Below are the main rubriks (i.e strongest indications or symptoms) of Carbo Veg in traditional homeopathic usage, not approved by the FDA.


Have you ever used Carbo Veg? Yes No

EYES
Eyes
Pains in the eyes, after having fatigued the sight, and from fine work.
Pains in the muscles of the eyes, on looking upwards.
Itching, smarting, heat, pressure and burning pain in the eyes, and in the corners of the eyes.
Nocturnal agglutination of the eyelids.
Bleeding of the eyes, often with strong congestion in the head.
Quivering and trembling of the eyelids.
Black, flying spots before the eyes.
Myopia.
Insensibility of the pupil.
≡ more ...