Vegetable Charcoal, Carbo Veg, Carboveg, Charcoal, Carbo-v



Available
in 6X-30X, 200X, 3C-30C, 200C, 1M-50M, CM from $6.50
Purchase options
HPUS indication of Carbo Vegetabilis: Exhaustion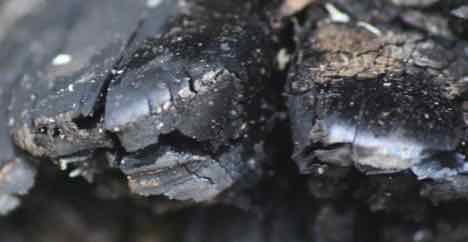 Homeopathic remedies are prescribed on the basis that in a tiny dilution like cures like, so while very dilute Carbo Vegetabilis may help, unprocessed Carbo Veg may be best avoided.
Below are the main rubriks (i.e strongest indications or symptoms) of Carbo Veg in traditional homeopathic usage, not reviewed by the FDA.
< < Carbo Veg - main page
FACE
Face
Puffy, cyanotic
Pale, hippocratic, cold with cold sweat; blue ( Cup.; Opium N/A .) Mottled cheeks and red nose.
Coldness
cholera
and dry
during headache
with pain in back of head (occiput)
Expression; anxious
haggard
pinched
sickly
suffering
Heat
during anxiety
after supper
lips; upper lip
Appearance as if dead (see sunken)
Inflammation; indurated (hard from inflammation); submaxillary gland (gland by neck, under jaw)
parotid gland (gland in front and below ear lobe)
spread of malignant tumour to testes
Motions of jaw; dropping of jaw
Lips; chapped
cracked lips
discoloration; black
discoloration; brown
discoloration; red
out-breaks on lips
cold sores, herpes; around lips
pimples
pimples; upper
Pain
right
being in bed
after poisoning by mercury
jaw; lower jaw
jaw; upper jaw
boring
pulling
jaws
jerking
right
cheek bones
cheek bone
cheek bone; left, in front of ear
cheek bone; evening
sore, bruised; bones of face
tearing
right
left
jerking
cheek bones
jaw; lower
jaw; upper
jaw; upper; morning
cheek bone
Perspiration
cold
Quivering; lips
lips; upper
Sensitive; bones
Skin; discoloration; iron deficiency anaemia (greenish-yellow discoloration)
discoloration; bluish
in croup
discoloration; dark
discoloration; earthy
discoloration; greyish
yellow
discoloration; greenish (see iron deficiency anaemia (greenish-yellow discoloration))
discoloration; pale
night
with headache
discoloration; red
within definite boundaries
during cough
glowing red
pale face becomes red after wine
discoloration; sallow
discoloration; sickly colour
discoloration; yellow
drawn, pulled
out-breaks on skin
chin
forehead
nose; tip
nose; on wings
temples
acne
acne; chronic, especially nose and cheeks
acne; forehead
blotches
boils
boils; chin; under chin
black head
merging together
crusty, scabby; nose
crusty, scabby; nose; tip
eczema
cold sores, herpes
cold sores, herpes; chin
cold sores, herpes; corners of mouth
itching; nose
moist
moist; nose
small, solid, no pus
pimples
pimples; forehead
pimples; forehead; red
pimples; forehead; white
pimples; nose
pus-filled pimples
red; erysipelas (inflamed from infection, deep red colour)
red; erysipelas (inflamed from infection, deep red colour); gangrenous
spots
tubercles (nodules, knob-like lumps)
shiny skin; waxy
ulcers; corners of mouth
Sunken
Swelling
cheeks
chin
lips
upper
parotid gland (gland in front and below ear lobe)
after measles-like rash
Trembling; jaw
Twitching
lips
upper lip
lower jaw
Veins swollen; like marbled nets