Vegetable Charcoal, Carbo Veg, Carboveg, Charcoal, Carbo-v, Carb-v.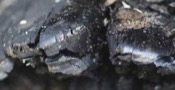 Below are the main rubriks (i.e strongest indications or symptoms) of Carbo Veg in traditional homeopathic usage, not approved by the FDA.


Have you ever used Carbo Veg? Yes No

FACE
Face
Paleness of the face.
Complexion yellow, greyish, greenish.
Face hippocratic.
Tractive pains, acute pullings, piercings, and burning pains in the bones of the face.
Swelling of the face and of the cheeks.
Tetters in the face.
Furunculi before the ear, and under the jaw.
Red pimples on the face (in young persons).
Swelling of the lips.
Lips cracked.
Purulent blisters on the lips.
Fissures of the ulcerated lips.
Eruptions, like tetters, on the chin, and on the commissures of the lips.
Twitchings of the upper lip.
≡ more ...