Vegetable Charcoal, Carbo Veg, Carboveg, Charcoal, Carbo-v, Carb-v.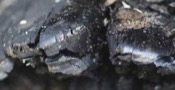 Below are the main rubriks (i.e strongest indications or symptoms) of Carbo Veg in traditional homeopathic usage, not approved by the FDA.


Have you ever used Carbo Veg? Yes No

FACE
Face
The complexion becomes greyish yellow.
Extremely pale complexion.
Aching of the facial bones of the upper and lower jaw.
Pain in the left side of the cheek, as if it were being bored and burned, in paroxysms (aft. 6d.).
Drawing pain in the cheek, for two days.
Drawing pain in the upper and lower jaw, on both sides, with drawing in the head and feeling of obtuseness in the same (aft. 2 h.).
Jerking pain in several parts of the face.
Jerking drawing pain in the cheek and the jaw (1st d.).
Tearing in the face.
Tearing facial pain in the left cheek.
Tearing pain in the left corner of the mouth and from there into the cheek.
Tearing by jerks in the left zygoma, before the ear, in the evening in bed.
Tearing by jerks in the bones of the upper jaw on the right side.
Fine tearing stitch on the right cheek (aft. 3 h.).
Glowing heat in the face, after sitting a short time.
Swelling of the cheeks.
Swelling of the face on the chin, for 2 hours.
Many pimples on the face and on the forehead.
Single white nodules on both the temples (aft. 4 d.).
A white pimple on the lower part of the cheek.
≡ more ...