Vegetable Charcoal, Carbo Veg, Carboveg, Charcoal, Carbo-v, Carb-v.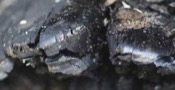 Below are the main rubriks (i.e strongest indications or symptoms) of Carbo Veg in traditional homeopathic usage, not approved by the FDA.


Have you ever used Carbo Veg? Yes No

GENITALS ETC
Urine
Diminution of the secretion of urine.
Frequent, anxious, and urgent inclination to make water, day and night.
Wetting the bed.
Urine red, and very deep-coloured, as if it were mixed with blood.
Urine of a deep red, with a dark cloudy appearance.
Smarting on making water.
Constriction of the urethra every morning.
Male
Frequent pollutions.
Smooth, red, and oozing spots on the glans penis.
Itching and moisture at the thigh, near the scrotum.
Pressure in the testes.
Female
Itching, burning, excoriation, aphthae and swelling at the vulva.
Milk-white, thick and yellowish, greenish and corrosive discharge from the vagina.
Genitals
Extraordinary affluence of voluptuous thoughts.
Too speedy emission in coition; followed by roaring in the head.
Discharge of prostatic fluid while at stool.
Varices on the pudenda.
Disposition to miscarriages.
Inflammation of the mammae.
Menses
Premature and too copious catamenia; or too feeble, with pale blood.
Before the catamenia, cramps in the abdomen and headache.
During the catamenia, vomiting and pains in the teeth, head, loins, and abdomen.
Leucorrhoea before the catamenia.
≡ more ...