Vegetable Charcoal, Carbo Veg, Carboveg, Charcoal, Carbo-v



Available
in 6X-30X, 200X, 3C-30C, 200C, 1M-50M, CM from $6.50
Purchase options
HPUS indication of Carbo Vegetabilis: Exhaustion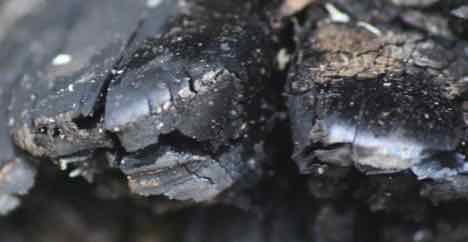 Homeopathic remedies are prescribed on the basis that in a tiny dilution like cures like, so while very dilute Carbo Vegetabilis may help, unprocessed Carbo Veg may be best avoided.
Below are the main rubriks (i.e strongest indications or symptoms) of Carbo Veg in traditional homeopathic usage, not reviewed by the FDA.
< < Carbo Veg - main page
HEAD
Head
Aches from any over-indulgence
Hat pressed upon head like a heavy weight
Head feels heavy, constricted
Pimples on forehead and face.
Brain; paralysis of brain; early stages
Cerebral haemorrhage
Coldness
from being heated
Congestion (see pulsation)
night
on coughing
fullness
afternoon; on waking
on waking
with a nose bleed
on waking
warm room
Constriction, tension (see also pulling, pressing)
as if in love
like band or hoop
pressure of hat
when heated
from movement
like wearing a skull cap
uncovering head
warm room
forehead; as from a band
Crackling sensation
while sitting
back of head (occiput)
Empty, hollow sensation
Hot
during cough
after eating
in small spot
in a warm room
forehead
Movements in head; swimming, as from alcohol (see confusion of mind)
shaking sensation
as if something rising from stomach
Movements of head; trembling
Sensation of numbness
morning
after dinner
back of head (occiput)
as if too tightly bound
Pulsating
evening
night
on waking
after eating
when breathing in
with difficult breathing
on waking
forehead
back of head (occiput)
extending to forehead
temples
before chill
on waking
Sensitive; brain
before period
during period
to stepping
head sensitive to cold air
morning
while walking in cold air
Twitching of muscles
Uncovering head
Warm coverings on head
Washing head
Weakness
on deep breathing
Headache
Heaviness (see pain; pressing)
pressing); forehead
pressing); back of head (occiput)
Pain, headache
morning
noon
afternoon
evening
in bed
night
air; open (see walking in open air)
affected by certain foods and drinks (improved, brought on or aggravated); after eating
affected by certain foods and drinks (improved, brought on or aggravated); from fatty food
affected by certain foods and drinks (improved, brought on or aggravated); from spirits
affected by certain foods and drinks (improved, brought on or aggravated); from wine
with catarrh
at peak of other symptoms
eyes and vision (affecting or affected by); forced to close eyes
eyes and vision (affecting or affected by); from straining eyes
from cold (including cold parts); becoming cold
from cold (including cold parts); cold head
from cold (including cold parts); from cold air
from catching cold
constant
with running or blocked nose
from having a running or blocked nose suppressed
on coughing
living in a damp house
darkness
from emotions; from becoming heated
from exertion; mental exertion
with stomach complaints
as if from flatulence
with high or low temperature; headache during the heat
with high or low temperature; headache after the heat
with high or low temperature; headache before the chill
with high or low temperature; headache during the chill
increasing gradually
when breathing in
from hangover
from any jar (see sensitive, coughing, laughing, stepping, riding)
while lying down
lies with head high
on right side
on painful side
after measles
in women; before period
in women; during period
in women; after period; on stopping of period
certain movements; raising head
certain movements; rising (see morning, noon, night, etc., on rising, also movement; raising head); from lying
certain movements; rising (see morning, noon, night, etc., on rising, also movement; raising head); rising to standing
from certain movements; movement in general
from certain movements; while bending head backward
from certain movements; on moving head
from certain movements; shaking head
from certain movements; from stooping
from noises
with other pains; pain in neck
with other pains; pain in nape of neck
recurring headache
from suppressed perspiration
from poisoning; mercury
pressure; from pressure of hat
pressure
pulsating
when reading
after scarlet fever
from sex; after sexual excesses
from sex; from dehydration
from sex; after masturbation
after sleep
after a siesta
from loss of sleep; from staying up late
from loss of sleep; from working at night
sneezing
pain in small spot
sudden pain or sudden increase of pain
from touch
twitching
with fading consciousness
walking; while
walking; on walking up steps or hill
from warmth; in warm bed
from warmth; summer
from warmth; from exposure to sun
warm room
from washing; washing head
from changes of weather
cold weather
damp
from exposure to wind; cycling in cold wind
from exposure to wind; horse-riding in cold wind
from wrapping up head
extending to other parts; forehead
extending to other parts; back of head (occiput)
bones
aching deep in brain
in forehead
eating
pulsating
from stooping
in cold wind
above eyes
above eyes; afternoon
back of head (occiput)
daytime
night
alternating with pain elsewhere; pain in sacrum
on climbing steps
bending head backward
cold air
on coughing
dark
after eating
from emotions; from becoming heated
fanning
heat; heat of heater
jarring
while lying down; lying on right side
while lying down; lying on either side
during period
during period; contracting the eyes
during period; scanty flow
after period
mental labour
certain movements
certain movements; of eyelids
certain movements; of head
noise
pressure of hat
pressure
pulsating
rubbing
shaking head
after sleep
while standing
stooping
heat of sun
turning head
while walking
warm room
extending to other parts; forehead
extending to other parts; to head
extending to other parts; neck
forehead and back of head (occiput)
sides; one side
sides; right
sides; left
sides; while lying down
in side lain on
sides; after rising
sides; extending to other parts; one side to the other
temples; extending to other parts; to teeth
top of head (vertex)
morning; in bed
afternoon
evening; in bed
while lying
mental exertion
while reading
extending to other parts; temples
biting
boring, digging, screwing; night
boring, digging, screwing; forehead
night
boring, digging, screwing; temples
burning
evening; in bed
forehead
top of head (vertex)
bursting; back of head (occiput)
cramping
cutting, darting, stabbing
pulling
pressure of hat
when heated
round the head
tightening
extending to other parts; forward
forehead
forehead; above root of nose
back of head (occiput)
back of head (occiput); extending to other parts; upward from nape of neck
back of head (occiput); sides of back
back of head (occiput); sides of back; left
sides
dull pain
back of head (occiput)
jerking
piercing, stabbing (see cutting); as from a nail
pinching; back of head (occiput)
pressing (see bursting, pulling)
afternoon
as if in armour
like a cap (see armour)
pulling
after eating
from pressure of hat
on movement
comes on suddenly
on stooping
after supper
as if in a vice
as from weight
as if brain bound up
as if brain bound up; as if membranes were too tight
forehead
forehead; afternoon
forehead; on movement
forehead; pressing outward
forehead; pressing outward; as though brain would come out
forehead; while stooping
forehead; weight of hat
forehead; extending to other parts; to eyes
forehead; over eyes
forehead; extending to above nose
back of head (occiput)
back of head (occiput); open air
back of head (occiput); after eating
back of head (occiput); noise
back of head (occiput); outward
back of head (occiput); on stooping
back of head (occiput); after supper
back of head (occiput); warm room
back of head (occiput); like weight or stone
back of head (occiput); extending to other parts; to eyes
back of head (occiput); extending to other parts; to forehead
back of head (occiput); at sides
back of head (occiput); at sides; right
back of head (occiput); under skull
temples
temples; outward
temples; outward; left
top of head (vertex)
top of head (vertex); afternoon
shooting (see cutting, piercing, stabbing, shocks, stitches, etc.)
on coughing
top of head (vertex)
sore bruised, sensitive to pressure
from pressure of hat
warm bed
stitching, sudden, sharp
evening
evening; in bed
when coughing
while reading
extending to other parts; back of head (occiput)
forehead
back of head (occiput)
back of head (occiput); evening
back of head (occiput); burning
side of head; evening
side of head; extending from side to side
temples
top of head (vertex)
top of head (vertex); while reading
top of head (vertex); extending to temples
stunning
tearing, rending
movement
while sitting
warmth; warm room
extending to other parts; right temple
forehead
back of head (occiput)
back of head (occiput); movement
back of head (occiput); sitting
back of head (occiput); warm room
back of head (occiput); extending to other parts; forehead
back of head (occiput); at sides
sides of head
temples; in spots
temples; extending to other parts; teeth
ulcerative
Shocks, blows, jerks, etc. (see jerking pain, pulsation, plug, nail)
like electric shocks
from reading
Scalp
Hair feels sore, Falls off easily; scalp itches when getting warm in bed
Hair; bristling
falling
after childbirth
back of head (occiput)
painful when touched
Pain, headache; from combing or binding hair; when combing the hair
from combing or binding hair; from binding hair
from touch; from touching the hair
back of head (occiput); binding up hair
back of head (occiput); touch; the hair
top of head (vertex); touching the hair
pressing (see bursting, pulling); top of head (vertex); on touching the hair
Skin and scalp; sensation of scalp contracting
out-break on skin
crusts, scabs
like insects crawling on skin
itching
evening
warmth of bed
forehead
perspiration; scalp
after walking
perspiration; forehead
evening
evening; after lying down
cold
while eating
Sensitive; from brushing hair