Vegetable Charcoal, Carbo Veg, Carboveg, Charcoal, Carbo-v, Carb-v.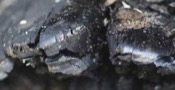 Below are the main rubriks (i.e strongest indications or symptoms) of Carbo Veg in traditional homeopathic usage, not approved by the FDA.


Have you ever used Carbo Veg? Yes No

HEAD
Head
Cramp-like tension in the brain, or sensation, as if from contraction, of the teguments of the head.
Heaviness of the head.
Shootings in the vertex.
Beating and pulsation in the head, esp. in the evening, or after a meal, with congestion of blood and heat, or burning sensation in the head.
Susceptibility to cold in the head.
Headache
Pressive headache, with tears in the eyes; they are painful when moving them.
Headache from being overheated.
Headache, with trembling of the jaw.
Nocturnal headache.
Pressive headache, esp. above the eyes, in the temples and in the occiput.
Drawing pain in the head, commencing at the nape of the neck, with nausea.
The headache frequently extends from the nape of the neck to the brain, and is sometimes aggravated after a meal.
Acute tractive pains in the teguments of the head, esp. in the occiput and in the forehead, often commencing in the limbs.
Scalp
Painful sensibility of the hairy scalp to external pressure (for instance, that of the hat).
Sensitiveness of scalp is agg. in the afternoon and evening, and after eating; agg. from taking cold, or when getting warm in bed.
Falling off of the hair, with itching of the scalp in the evening, when getting warm in bed.
≡ more ...