Vegetable Charcoal, Carbo Veg, Carboveg, Charcoal, Carbo-v, Carb-v.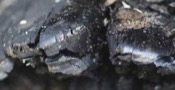 Below are the main rubriks (i.e strongest indications or symptoms) of Carbo Veg in traditional homeopathic usage, not approved by the FDA.


Have you ever used Carbo Veg? Yes No

HEAD
Headache
aches come on every time he takes cold; from cold damp weather; from going into a cold damp place and becoming chilled. Awful occipital headache, or headache over the eyes, or headache involving the whole head, with pounding like hammers.
Scalp
The headaches are mostly occipital. His whole head is turgid, full, distended. He feels as if the scalp was too tight. Everything is bound up in the head. Awful occipital headaches. Cannot move, cannot turn over, cannot lie on the side, cannot be jarred, because it, seems as if the head would burst, as if something was grasping the occiput.
ache as from contraction of the scalp. Painful stitches through the whole head when coughing; the whole head burns. Intense heat of the head; burning pain. Rush of the blood to the head followed by nose-bleed.
≡ more ...