Carbo Vegetabilis - Mind symptoms (inc. personality)
Vegetable Charcoal, Carbo Veg, Carboveg, Charcoal, Carbo-v



Available
in 6X-30X, 200X, 3C-30C, 200C, 1M-50M, CM from $6.50
Purchase options
HPUS indication of Carbo Vegetabilis: Exhaustion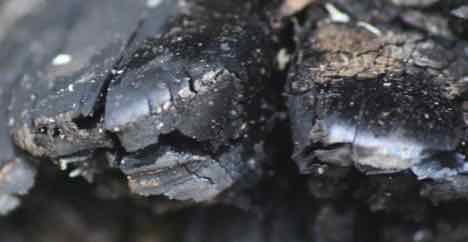 Homeopathic remedies are prescribed on the basis that in a tiny dilution like cures like, so while very dilute Carbo Vegetabilis may help, unprocessed Carbo Veg may be best avoided.
Below are the main rubriks (i.e strongest indications or symptoms) of Carbo Veg in traditional homeopathic usage, not reviewed by the FDA.
MIND
Mind
Aversion to darkness
Fear of ghosts
Sudden loss of memory.
Aversions, dislikes; open air
company
to presence of strangers
indolence, aversion to work
evening
thinking
aversion to mental work
Behaviour; biting
childish behaviour (see foolish)
foolish behaviour
kicks
nymphomania
shrieking
during sleep; before period
inclination to sit
striking
Darkness
Delirium
night
in dark
quiet
on waking
Delusions, imaginations, hallucinations, illusions
about bed; as if some one had joined them in bed
about criminals
environment and surroundings; walls falling; walls of room seem to be falling inward, before epileptic fit
illusions of fantasy
during heat
hears sounds; footsteps
hears sounds; noise
objects appear different; things grow smaller
about self; body; size; sensation of being smaller
before epileptic fit
about self; circumstances; is a criminal; as if had committed a crime
about self; circumstances; deserted, forsaken
visions; evening
visions; horrible
in the dark
visions or presence of phantoms, figures, people
night
in the dark
faces
faces; on closing eyes
figures; sees figures
frightful
people are beside
spectres, ghosts, spirits
desire for open air
Desires, wants; to be carried
company
death
sex, lustful
As if in a dream
Excitement
evening
in bed
during chill
as if hurried
Mental exertion
Fantasies; of exaltation
of exaltation; night
of exaltation; lascivious
of exaltation; while perspiring
Emotions, feelings, attitude, disposition; anguish
anguish; evening
anger (see irritability and quarrelsome)
late morning
violent
boredom, dissatisfaction (see loathing of life); weary of life (see boredom, dissatisfaction, loathing, etc.)
cheerful, happy
after eating
cowardice
ecstatic; while perspiring
forsaken feeling
morning
impatience
impetuous
impetuous; perspiration
indifference, apathy, etc.
to everything
to beloved music
irritability
daytime
morning
late morning
during chill
after eating
during heat
jesting
laughing
immoderately
loathing; life (see desires, death)
love; affectionate
mirth, hilarity, liveliness, etc.
evening
foolish
morose
after eating
remorse
afternoon
rage, fury (see insanity, mania, delirium); violent, intense feeling
in morning
late morning
excessively religious (see anxiety, despair, fear)
sensitive, oversensitive
daytime
during heat
to noise
easily offended
unhappy; despair
discouraged
during heat
with the pains
while perspiring
unhappy; wants to injure self; suicidal disposition
by shooting
unhappy; lamenting, regretting; moaning, groaning
unhappy; sadness, mental depression
evening
weeping, crying, tearful mood (lamenting)
afternoon
in open air
during the chill
at sad thoughts
Hurry
at work
Intellectual faculties; impaired thinking; difficulty concentrating
impaired thinking; confusion
morning
on rising
on waking
afternoon
evening
forced to arouse himself
after dinner
as if in a dream
after eating
as if intoxicated
as after being intoxicated
when lying down
from mental exertion
mental exertion
after sleeping
after sleeping; after a siesta
while walking
while walking; in open air
impaired thinking; dull, sluggish
morning; on waking
from damp air
during heat
while reading
impaired thinking; imbecility
impaired thinking; weakness of mind
noon
ideas; deficiency of ideas
Insanity; in alcoholics
after haemorrhage
mania, madness; from drinking (delirium tremors)
Insecure, uncertain, scared; anxiety
anxiety; morning
on waking
anxiety; afternoon
4 p.m.; to 5 p.m.; 6 p.m.
anxiety; evening
in bed
in the twilight
anxiety; night
on waking
before midnight
anxiety; in bed
anxiety; during chill
anxiety; on closing eyes
anxiety; of conscience (as if guilty of a crime)
anxiety; while eating
anxiety; after eating
anxiety; while lying down
anxiety; before period
anxiety; from the pains
anxiety; with shuddering
anxiety; after stool
anxiety; in the presence of strangers
anxiety; on waking
anxiety; followed by crying
lacking self confidence
fear
afternoon
evening
night
of accidents
of extreme emotion
dark
of evil
of ghosts
of ghosts; night
something will happen
of people
of people; of strangers
before sleep
frightened easily
starting, startled
starting, startled; night
starting, startled; easily
starting, startled; from fright
starting, startled; from noise
starting, startled; on falling asleep
starting, startled; during sleep; starting from sleep
timidity
appearing in public
bashful
Memory; active memory
forgetful
periodical
of words while speaking
weakness of memory
for what has heard
periodical
for what has been said
sudden and periodical
Perception; incorrect judge of size; things appear smaller
senses; dull
Preoccupied; one track minded
Restlessness, nervousness
afternoon
evening
4 to 6 p.m.
night
anxious, etc.
forcing out of bed
during chill
when in company
during heat
Mental symptoms from sexual excesses
Slowness
Talking, conversation; answers not lucid; incorrectly
answers not lucid; irrelevantly
answers not lucid; slowly
obstinate
dislike of talking, desire to be silent, taciturn
in sleep
Thoughts (see preoccupied); persistent (see delusions)
Unconsciousness
while lying down
on rising up
≡ more ...