Vegetable Charcoal, Carbo Veg, Carboveg, Charcoal, Carbo-v, Carb-v.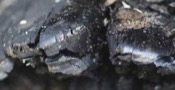 Have you ever used Carbo Veg? Yes No


Below are the main rubriks (i.e strongest indications or symptoms) of Carbo Veg in traditional homeopathic usage, not approved by the FDA.
MIND
Mind
Anxious, as it were oppressed in the chest, for several days.
Very much oppressed and full.
Inexpressibly weighed down with anguish, every afternoon from four to six o'clock.
In the evening for several hours increasing anguish, with heat in the face.
In the evening, restlessness.
Restless the whole day.
He trembled for restlessness and anxiety, and could not stay long anywhere.
For restlessness and anguish every afternoon, he trembled all over the body; he felt as if he had committed a great crime, this dissolved itself into copious weeping, even before strangers on the street.
He felt like weeping, everything seemed to him dreadful, and he felt in despair.
Great disposition to weep; he wishes to shoot himself.
She wishes to die, she feels so unhappy.
Pusillanimous and timid.
If she has to speak before people, her pulses throb, her pale face becomes bloated and bluish red.
Impatient.
Great irritability.
Excessive excitation, as if she was too much hurried, or over-worked in business.
Irritation and ill humor, with lassitude of mind (aft. 10 h.).
Irritability and sensitiveness.
Very irritable during the day and inclined to be annoyed.
Very sensitive and moody (aft. 4 h.).
Peevish, impatient, desperate, so that he would like to shoot himself.
Peevish irritableness, with numb feeling in the head.
Peevishly irritable, the whole day (2d d.).
Violent irritable disposition.
Passionate and peevish, in the forenoon.
Very peevish, irritable and inclined to anger.
Involuntary angry ebullitions (aft. 26 h.).
Sensitive mood, inclined to weep.
Very irritable and easily put into bad humor, he can easily weep over sad events, and just as easily laugh over the merest trifle, so that tears stand in his eyes.
Sensitive, easily irritated humor, which however, when cause is given, is wont easily to turn into awkward gayety, when to the laughter is added relaxation of the muscles of the arms and the hands.
Excessively cheerful, but easily put out of humor.
Out of humor (after a meal).
Indifferent, unsympathetic.
Indifferent the listens to everything without pleasure or displeasure, and without thinking of anything.
The mind is indolent and indisposed to think (aft. 10 h.).
Music, which the loves, does not affect him all day.
Freedom of spirit, lightness and general good health (curative effect after chaotic state of the head, as from a cold, and general heaviness of the limbs and of the body) (aft. 4 h.).
Lack of memory, periodically occurring.
Sudden lack of memory, he could not recollect what he had just said to somebody, and what he had recounted to him.
Slow flow of ideas, which always revolve around one subject, with a sensation as if the head was bandaged too tightly.
Numbness in the head, which makes thinking difficult.
Severe numb feeling in the head in the morning, at once after rising; he can not think well and has to tear himself with difficulty, as it were, from a dream; after the lay down again, it went off.
Numb feeling in the head, for several days without pain.
Numb feeling in the occiput, as after a spree.
Numb feeling in the head, after dinner.
Numb feeling in the head, in the evening, after a walk (aft. 19 h.).
Numbness of the occiput like an outward tension (aft. ½ h.).
Dullness in the head, after awaking from the noon-day nap.
≡ more ...