Vegetable Charcoal, Carbo Veg, Carboveg, Charcoal, Carbo-v, Carb-v.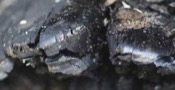 Below are the main rubriks (i.e strongest indications or symptoms) of Carbo Veg in traditional homeopathic usage, not approved by the FDA.


Have you ever used Carbo Veg? Yes No

MIND
Mind
Confusion of head, making thinking difficult; morning on waking; he had to make great exertion, as if arousing himself from a dream.
Ideas flow slowly.
Stupor, collapse.
Anxious, as if oppressed, with heat in the face.
Nightly fear of ghosts.
Indifference; heard everything without feeling pleasantly or unpleasantly, and without thinking of it.
Very irritable, excitable and inclined to anger.
Peevish, wrathful.
Restless, anxious; 4 to 6 P.M.
≡ more ...