Vegetable Charcoal, Carbo Veg, Carboveg, Charcoal, Carbo-v, Carb-v.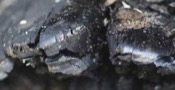 Below are the main rubriks (i.e strongest indications or symptoms) of Carbo Veg in traditional homeopathic usage, not approved by the FDA.


Have you ever used Carbo Veg? Yes No

MOUTH
Mouth
Stomacace.
Gums and teeth
Toothache, with pulling or drawing pains; acute, or contractive, ulcerative, or pulsative pains, provoked by taking anything hot or cold, as well as by food too salt.
Obstinate looseness of the teeth.
The gums recede from the teeth (incisors).
Unfastening, retraction, excoriation, and ulceration of the gums.
Bleeding of the gums, and sockets of the teeth.
Saliva
Heat and dryness, or accumulation of water in the mouth.
Dryness of the mouth, without thirst.
Tongue
Roughness in the mouth and on the tongue.
Tongue coated white or yellow-brown.
Excoriation of the tongue, with difficulty in moving it.
≡ more ...