Vegetable Charcoal, Carbo Veg, Carboveg, Charcoal, Carbo-v, Carb-v.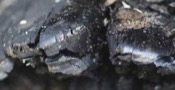 Below are the main rubriks (i.e strongest indications or symptoms) of Carbo Veg in traditional homeopathic usage, not approved by the FDA.


Have you ever used Carbo Veg? Yes No

MOUTH
Mouth
Mouth and breath cold.
Hemorrhage from nose and mouth.
Gums and teeth
Mouth hot, tongue almost immovable, saliva bloody; edges of gums yellow, indented; gums loose, receding, ulcerated.
Drawing and tearing pain in the molars.
Tearing in teeth from hot, cold or salt food; worse when touched with tongue; whole row too long and tender.
Teeth decay rapidly.
Gums bleed, also when sucking them; pain as if sore; recede from (lower) incisors; sensitive when chewing; gum-boils.
Saliva
Increase of saliva.
Tongue
Glossitis when tongue becomes indurated.
Tongue heavy, with difficult speech.
Tongue white; coated with yellow-brown mucus; lead-colored, blue, sticky, moist; dry, parched, fissured.
Tip of tongue raw and dry; heat in mouth.
Tongue turns black.
Taste
Bitter taste before and after eating; salty taste.
Palate
Bitterness on palate, tongue dry.
≡ more ...