Vegetable Charcoal, Carbo Veg, Carboveg, Charcoal, Carbo-v



Available
in 6X-30X, 200X, 3C-30C, 200C, 1M-50M, CM from $6.50
Purchase options
HPUS indication of Carbo Vegetabilis: Exhaustion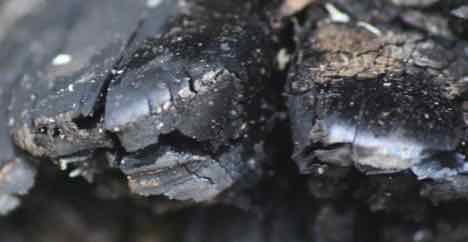 Homeopathic remedies are prescribed on the basis that in a tiny dilution like cures like, so while very dilute Carbo Vegetabilis may help, unprocessed Carbo Veg may be best avoided.
Below are the main rubriks (i.e strongest indications or symptoms) of Carbo Veg in traditional homeopathic usage, not reviewed by the FDA.
< < Carbo Veg - main page
NOSE
Nose
Epistaxis in daily attacks, with pale face
Bleeding after straining, with pale face; tip of nose red and scabby, itching around nostrils
Varicose veins on nose
Eruption in corner of alae nasi
Nose bleed
morning
in bed
10 to 12 a.m.
night
bright blood
dark, black blood
and thin
fluid blood
pale blood
from blowing the nose
with cough
in diphtheria
in alcoholics
from exertion
from jarring
aged people
periodic
persistent
during stool
after straining at stool
after stooping
Catarrh
open air
dry, chronic
Coldness
Discharge from nose; blood
copious; from back of nostrils
wearing away skin
fluffy, woolly
greenish
suppressed
thick
watery
behind nostrils (see catarrh)
Dryness; inside
behind nostrils
Heaviness
Itching
inside
left
Pain
behind nostrils; blowing nose
behind nostrils; coughing
behind nostrils; swallowing
root
gnawing, biting
burning, smarting
on blowing
pulling; root
pressing; bones
pressing; root
rawness; behind nostrils
sore, bruised; behind nostrils; on coughing
Pointed
Skin or lining of nose; discoloration; redness
discoloration; redness; tip
like insects crawling on skin (see itching); inside
roughness inside; night
varicose veins (see face)
Tingling; inside
inside; left
inside; evening
Twitching (see face)
Discharge
Coryza with cough, especially in moist, warm weather
Ineffectual efforts to sneeze.
Running or blocked nose (coryza)
blocked
one-sided; right
one-sided; left
evening
warm room
right; to left
daytime
morning
evening
night
annual (hay fever)
asthmatic breathing
from becoming chilled, while overheated
with cough
running, wet
daytime
morning
morning; in bed
evening
in open air
dry
morning
evening
with inflammation larynx
from becoming overheated
suppressed
violent attacks
warm room
extending to chest
Sneezing
night
constant; during night
without running or blocked nose
after coughing
frequent
hay fever with asthma
difficult to sneeze
from irritation in larynx
tingling in nose
violent