Vegetable Charcoal, Carbo Veg, Carboveg, Charcoal, Carbo-v, Carb-v.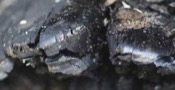 Below are the main rubriks (i.e strongest indications or symptoms) of Carbo Veg in traditional homeopathic usage, not approved by the FDA.


Have you ever used Carbo Veg? Yes No

NOSE
Nose
Nose pointed; hippocratic face.
Frequent and easy epistaxis; worse at night or in forenoon, followed by pain over the chest.
Nosebleed several times daily for weeks; face pale before and after every attack; after straining at stool; small, intermittent pulse; after debauch; in old or debilitated people.
Discharge
Frequent sneezing with constant and violent crawling and tickling in the nose.
Fruitless irritation to sneeze, with crawling in left nostril.
Severe coryza, with hoarseness and rawness on the chest.
Dry coryza.
≡ more ...