Vegetable Charcoal, Carbo Veg, Carboveg, Charcoal, Carbo-v, Carb-v.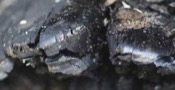 Have you ever used Carbo Veg? Yes No


Below are the main rubriks (i.e strongest indications or symptoms) of Carbo Veg in traditional homeopathic usage, not approved by the FDA.
RECTUM, ANUS, STOOL
Rectum, anus, stool
Stools burning, light-colored, fetid, watery, bloody, with tenesmus; covered with filamentous yellow mucus, last part bloody; putrid, cadaverous smelling, involuntary; dysenteric, terribly offensive; thin, pale mucus; in fragments, tough, scanty, with urging and tingling in rectum, and pressure on bladder and uterus.
Stool
Acrid, corrosive moisture from the rectum.
Gnawing in the rectum when not at stool; crawling. θ Ascarides.
Flatus, hot, moist, offensive.
Even soft stool passed with difficulty.
Cholera asiatica, stage of collapse.
Hemorrhoids protrude; blue; suppurating and offensive; with burning; after debauchery; cause dysuria.
≡ more ...