Vegetable Charcoal, Carbo Veg, Carboveg, Charcoal, Carbo-v, Carb-v.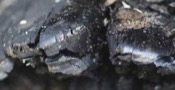 Below are the main rubriks (i.e strongest indications or symptoms) of Carbo Veg in traditional homeopathic usage, not approved by the FDA.


Have you ever used Carbo Veg? Yes No

SKIN
Skin
Sensation of tingling of the skin, throughout the body.
General itching in the evening, and on becoming warm in bed.
Burning sensation in different parts of the skin.
Eruption of small pimples like miliary scabies.
Nettle-rash.
Tetters.
Streaks of a reddish brown.
Painless ulcers in the extremities of the fingers and of the toes.
Fetid ulcers, with burning pains, and discharge of corrosive and bloody pus.
Chilblains.
Varices.
Plexus of the veins, formed by a dilatation of the capillary vessels, with violent haemorrhage, after the slightest injury.
Lymphatic swellings, with suppuration and burning pains.
Swelling and induration of the glands.
Gangrenous spots from lying in bed; old wounds having heated break out again; punctured wounds which won't heal.
≡ more ...