Vegetable Charcoal, Carbo Veg, Carboveg, Charcoal, Carbo-v, Carb-v.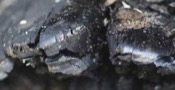 Have you ever used Carbo Veg? Yes No


Below are the main rubriks (i.e strongest indications or symptoms) of Carbo Veg in traditional homeopathic usage, not approved by the FDA.
VERTIGO, DIZZINESS
Vertigo
Vertigo with nausea and tinnitus
Morning
in bed
on waking
late morning
Evening
From suppressed out-breaks on skin
Tendency to fall over
While gargling
During headache
From head; at back of head (occiput)
Heat of fever; during the heat
From looking at.
looking upwards
looking out of a window
When lying down; while lying down
In women; during period
From movement
moving the head
moving head quickly
raising head
on turning in bed
With nausea
Perception of objects distorted; objects seem to move; vibrate
While sitting
After sleep
While standing; with staggering
On stooping
Suspension of the senses; with blackout
Trembling
While walking
≡ more ...