Hawthorn, Crat-o.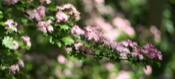 Have you ever used Crataegus Oxyacantha? Yes No


< < Crataegus Oxyacantha- main page

Below are the main rubriks (i.e strongest indications or symptoms) of Crataegus Oxyacantha in traditional homeopathic usage, not approved by the FDA.
CHEST
Heart
Faintness and collapse.
Heart failure in hypertrophy and valvular disease.
Palpitation and rapid action of heart.
Angina pectoris, pain above and to l. of stomach, pulse strong and forcible; indications of hypertrophy; very tender spot l. side of spine.
Hypertrophy from overexertion; from alcoholic, venereal and other excesses.
Heart dropsy.
≡ more ...