Foxglove, Digitalis, Digital, Digit, Digitalinum, Dig.
HPUS
indication of Digitalis Purpurea:
Anxiety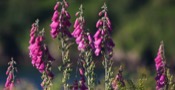 Have you ever used Digitalis Purpurea? Yes No


< < Digitalis Purpurea- main page

Below are the main rubriks (i.e strongest indications or symptoms) of Digitalis Purpurea in traditional homeopathic usage, not approved by the FDA.
ABDOMEN
Abdomen
Stomach; Sweet taste with constant ptyalism
Faintness, Great weakness in stomach
Burning in stomach extending to oesophagus
After cold water or ice-cream, sharp pain in forehead, extending to nose
Tenderness of epigastrium
Copious salivation
Pain in left side apparently in descending colon and under false ribs
Severe abdominal pains, pulsation in abdominal aorta, and epigastric constriction
Enlarged, sore, painful liver.
Eating
Discomfort, even after a small quantity of food, or from mere sight or smell
Neuralgic pain in stomach, unconnected with taking food.
Vomiting
Excessive nausea, not relieved by vomiting
Faintness and vomiting from motion
≡ more ...