Foxglove, Digitalis, Digital, Digit, Digitalinum, Dig.
HPUS
indication of Digitalis Purpurea:
Anxiety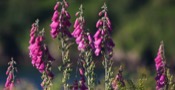 Below are the main rubriks (i.e strongest indications or symptoms) of Digitalis Purpurea in traditional homeopathic usage, not approved by the FDA.


Have you ever used Digitalis Purpurea? Yes No


< < Digitalis Purpurea- main page
ABDOMEN
Abdomen
Abdomen retracted without colic.
Stitching lightning-like pains.
Violent labour-like pains from small of back into abdomen as if menses would appear.
Eating
Stitches immediately after dinner.
Flatus
Emission of much offensive flatus, in morning, immediately after rising, followed by copious pasty stools with violent griping.
Nausea
Nausea.
Feeling of fulness and nausea as if contents of stomach rose up in throat.
Vomiting
Drinking renews nausea and vomiting.
Violent vomiting; yellow like egg; white sourish mucus; with great sensitiveness of eyes to bright light and the nose to odours.
Stomach
Violent sensation of hunger on waking.
Very great thirst, esp. for beer.
Faint, sinking sensation.
Pinching or contracting pain.
≡ more ...